Product Description
You will have a patchwork pooch with this precious vest. Your dapper dog will look absolutely stunning in this fantastic ensemble. It is a great way to make your dog ready for formal occasions or simply to add a little style to your afternoon walk!
The Chad Vest by Ruff Ruff Couture® features a hand-made blue and green madras plaid patchwork vest complete with bow tie and wood buttons. Perfect for a spring brunch or going to the Hamptons, this vest fits in just about anywhere.
Proudly made in the United States.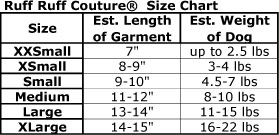 Find Similar Products by Category