Product Description
If you are looking for eye protection without a lot of flair, this is the right fit for you. It is a subtle sweetness, perfect for the dog who does not like drawing too much attention to itself.
They offer 100% UV protection, impact resistant lens, and side air vents. They are comfortable for your dog with fully adjustable head and chin straps, foam padding around each lens, and flexible frames.
Note: Several people buy these if the ILS Doggles do not fit and vise-versa, which similar, they designs fit slightly different. If one does not fit, try the other. But most dogs are able to easily fit into both styles.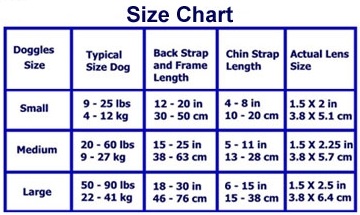 Find Similar Products by Category