Product Description
Your puppy will impress all the ladies when he goes out on the town in this snazzy little number. It is perfect for dinner parties, a night out, or evening just a fancy evening at home. Let your pup show his style and you will find yourself dressing to match! You don't want your little angel to be the most fashionable one in the family, do you?
The Edward Dog Vest is made of luxurious plaid. Adorned with gold buttons and a spot for a handkerchief, this truly is a great vest. Get the matching Emily dress for your little girl!
Proudly made in the United States.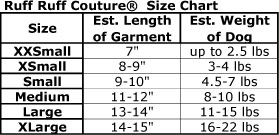 Find Similar Products by Category