Lamb Chop Blue Thermals for Dogs
Lamb Chop Blue Thermals for Dogs
Product Description
Let your little cherub flutter off to dreamland with this adorable pajama set. The little lambs one the pj's will help keep your puppy thinking warm thoughts. Besides, you will just want to cuddle your little angel when you see them wearing these thermals, so that will help keep them warm.
The Ruff Ruff Couture® Lambchop Thermal Tee is made from ultra-soft thermal cotton spandex featuring clouds and lambs. Sleepy time has never looked cuter! For extra warmth, try layering under a tank or jacket. Available both in blue and pink. Proudly made in the U.S.A.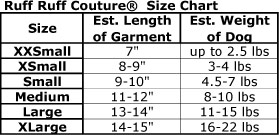 Product Reviews
Write Review
Posted by Beth Gaskins on May 8th 2011

I just got 2 of these for my my boys (who are Kitties) and they loved them! They are so soft and light, perfect for summertime when the air is on and the kids can get a little chilly. The pattern is just too cute and makes nap time more fun! As always the quality is superb!!!!!
Find Similar Products by Category