Product Description
These are a great option to keep your little puppy-wuppy's feetsies dry! They are disposable too! Not only will they protect your pup's feet, but they will also protect the environment. These booties are made from 100% biodegradable material. It is a fashionable and fun way to keep you dog from getting too muddy.
Features:
Designer to go on easily and fit securely without zippers or straps
Fashionable, yet durable.
Most natural feeling dog shoes as they don't have padding so your dog can feel the ground
Moves with your dog, allowing for full paw motion and maximum comfort
Comes 12 to a pack, so that if you loose one, you have extras. Each boot may be worn many times. Each size comes in a different color.
Tiny fits paws up to 1"; XXS up to 1.5"; XS up to 2"; Small up to 2.5"; Medium up to 3"; Large up to 4"; XL up to 5".Paw

The size chart below is just a guide. Dogs of a single breed may wear smaller or larger sizes based on age, sex and weight.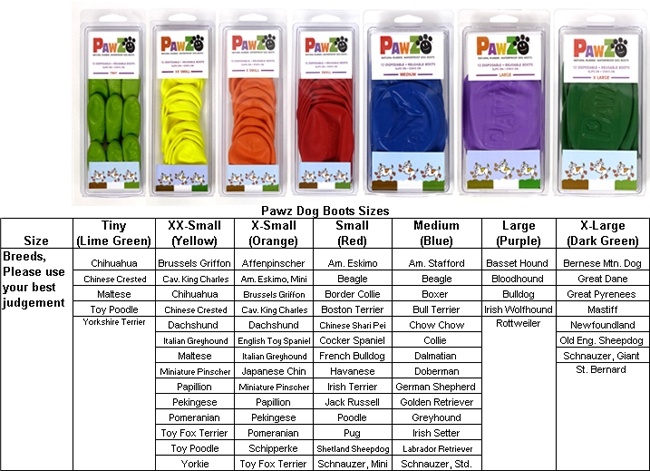 Product Reviews
Write Review
Posted by Brittany on May 3rd 2011

Okay, overall... this product is great. I live in Wisconsin and during the winter our snow forms a thick la_x_yer on top that will cut my dogs paws open when she runs around. Her paws will literally bleed for an hour from it. I purchased these to put on her when she's outside hoping to reduce the amount of times her paws get cut open and bleed. They work well if I'm just taking her for a walk, or going out to potty, but when she get the "zoomies" and runs around.... not so much. They're convenient in the fact that they're easy to put on and take off, and you just need to run them under water to clean them. My only complaint is they're not incredibly durable, and sort of expensive for a one time use.
Find Similar Products by Category